You're confronted with a sea of boxes touting a variant of bases, lumens and wattage. Where do you start? Here's our quick, easy to follow guide to choosing the right LED globe for your environment, fitting and purpose.
Work from the bottom up – choose a base
One of the most important considerations is picking a base compatible with your existing light fitting. The most common types are the Edison Screw (E27) and the Bayonet Cap (B22), but for more niche applications like the light in an oven or sewing machine, the bases can vary. A visual match is a good start but the base type number is the best way to confirm you've got the right product.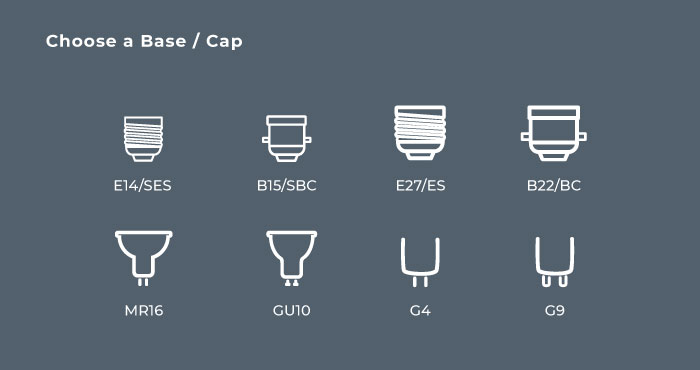 Shape and size of the globe
Next is the obvious – does the size and shape of the globe fit the fixture it's going into? With so many options – especially for indoor lighting (A & G Series) this can make the choice overwhelming. As a rule of thumb, choose suitability over looks and stick to the traditional 'normal' shaped globes, with the exception of those on display.  
Decorative globes make a statement in exposed pendants and lamps, and candles are a must in an upright chandelier.  
Now, choose the atmosphere you want the room to have through colour temperature. 
Measured in degrees of Kelvin on a scale of 1,000 to 10,000, colour temperature dictates the amount of warmth in a globe or light fixture – the higher the rating, the whiter or cooler the light.
Critical, but often overlooked in the decision making process is the choice of globe technology. Here are the four options.
LED globes
By far LEDs offer the best quality and longest lifespan, making them the most efficient option on the market today. 
Incandescent globes
Incandescents are a dying technology, but still very much in use. Often called filament globes they are affordable, but don't last anywhere near as long as LEDs.
CFL (Compact Fluorescent Lighting)
CFL globes are easily recognisable by their 'tube' shape, and are an efficient option lasting over 10,000 hours. They take a few minutes to 'warm up' (longer for the larger ones) and have a bulky external ballast making them hard to handle.
Halogen globes
Halogen are the a middle ground between incandescent and LED, offering the same 'warm' light that incandescents tend to. They are more efficient than incandescent globes, but less so than LEDs.
To dim or not to dim – dimmable globe options
The final choice on some globes is a dimmable option, allowing you to adjust the intensity of the light output when needed.
Stay up to date. Join our mailing list